There are so many options for these fresh haircut styles from close cropped waves to natural twists to geometric flat tops with retro flair.
Most of these styles are a combination of texture on top, a line up and taper fade.
Create your own unique style by choosing length on top, type of curls, and the placement of the fade. For something extra, add a surgical line or hair design.
Whether you want to wear hair short or long, faded or twisted, curly or carved, these are some of the coolest haircuts for black men we've seen this year.
Texture is one of the major hair trends of this year for all hair types.
For shorter hair, a waves haircut or by adding a hair design or can create that texture without much length.
If you want to grow your hair long you will find some cool options with braids and dreadlock looks below.
Every month we are seeing new types of fade haircuts. Add a high, mid, or low fade to short or long hair. Take it to the next level with a unique shape, V-neckline, curved part, or shaved line.
There are also haircuts that only work for black hair like the high top fade, modern afros, and stepped cuts. Last but not least, don't be afraid to add some color for a truly bold look.
Okay, check out these pictures for 47 fresh and cool black men's haircuts.
1. Waves + Low Fade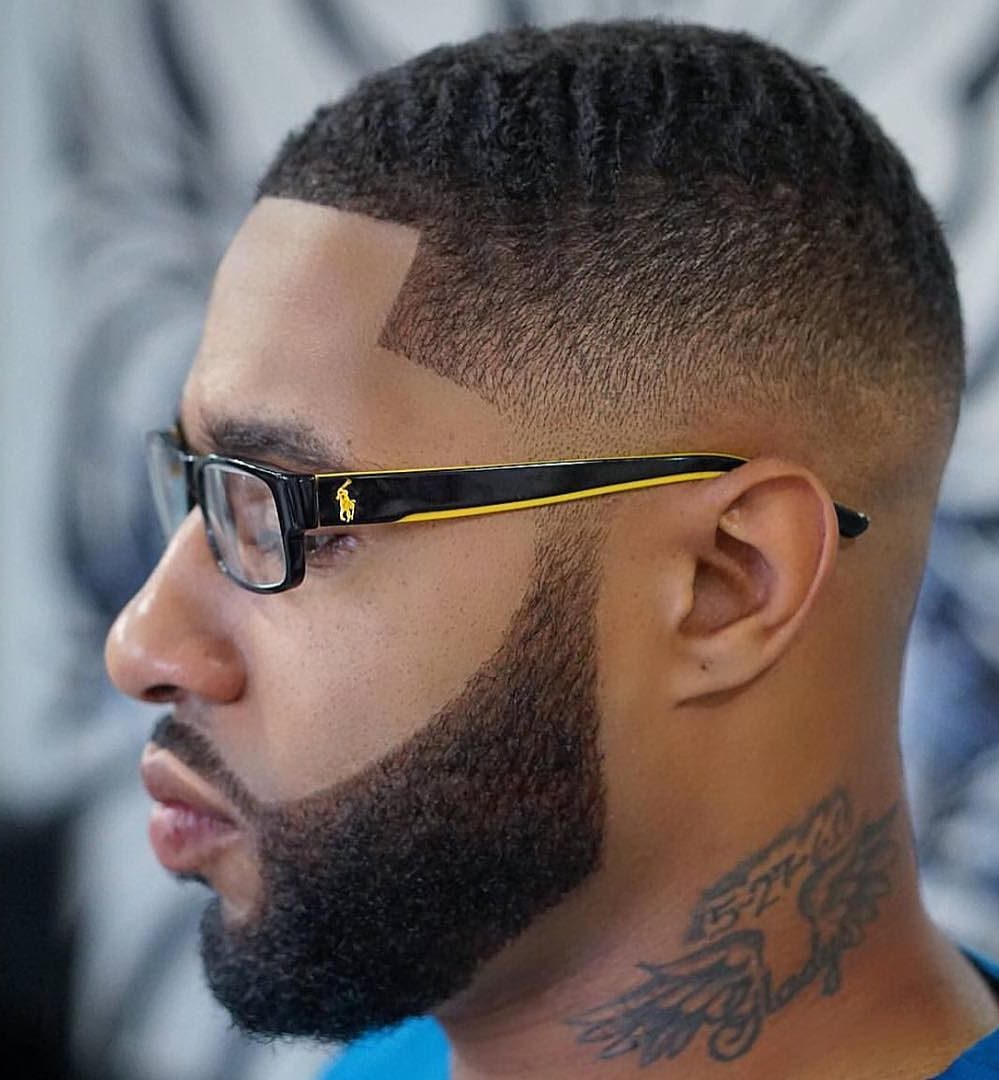 With waves, a line up and blurry fade, this cool short haircut has a lot going on. The beard is also shaped for a clean cut finish.
2. 360 Waves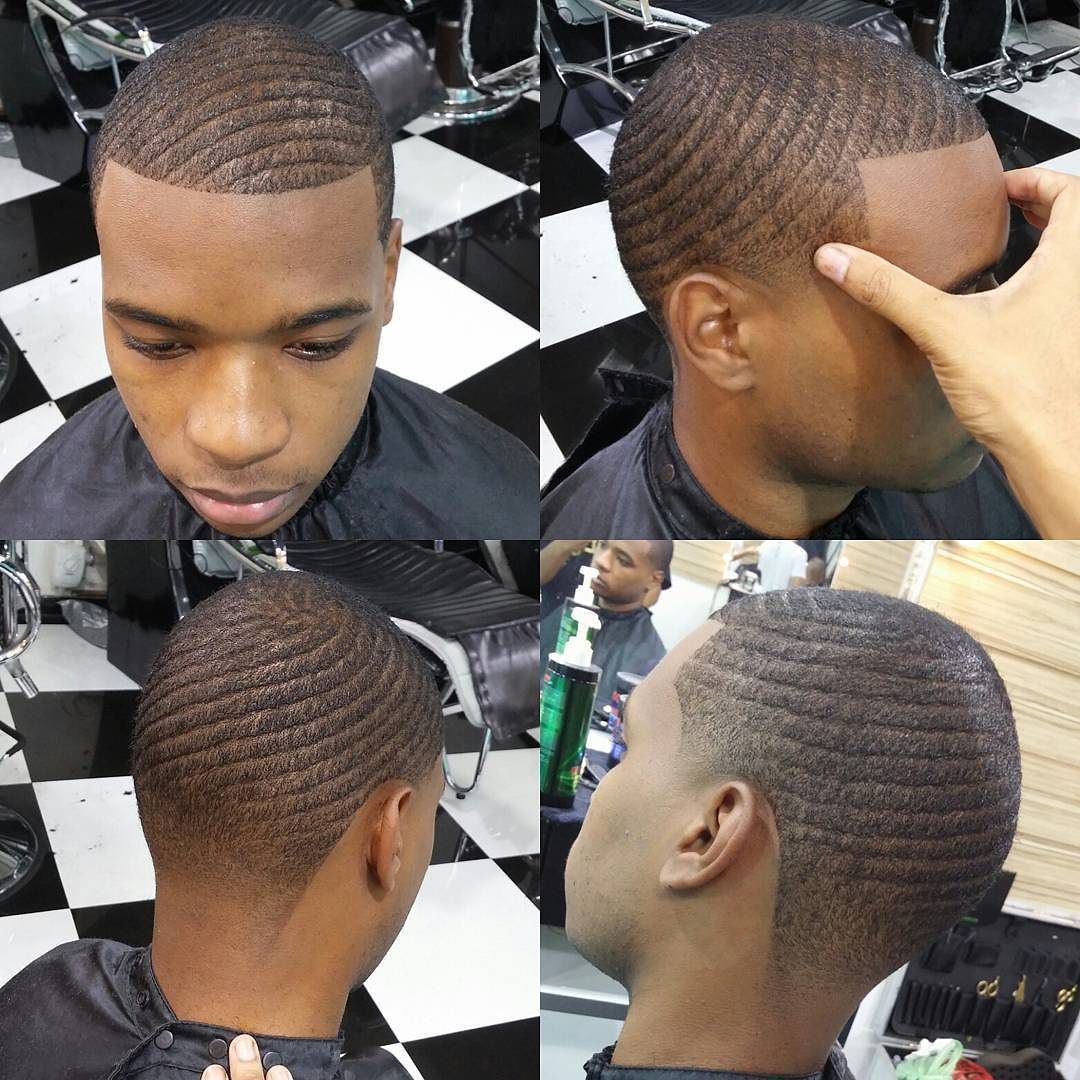 When a short buzz isn't enough, 360 waves add plenty of dimensions. This version expertly carves waves so they work with hairs whorl and land just right along the forehead. This is one of the most popular haircuts for black men who want to keep things short and stylish.
3. High Bald Fade Haircut
With a buzz keeping curls tight up top, this high-low fade raises the hairline dramatically.
4. Short Hair + Low Taper Fade
This fresh cut has just enough length to create a rounded profile. The skin fade follows the same arc while a line up defines the forehead.
5. Deeper Waves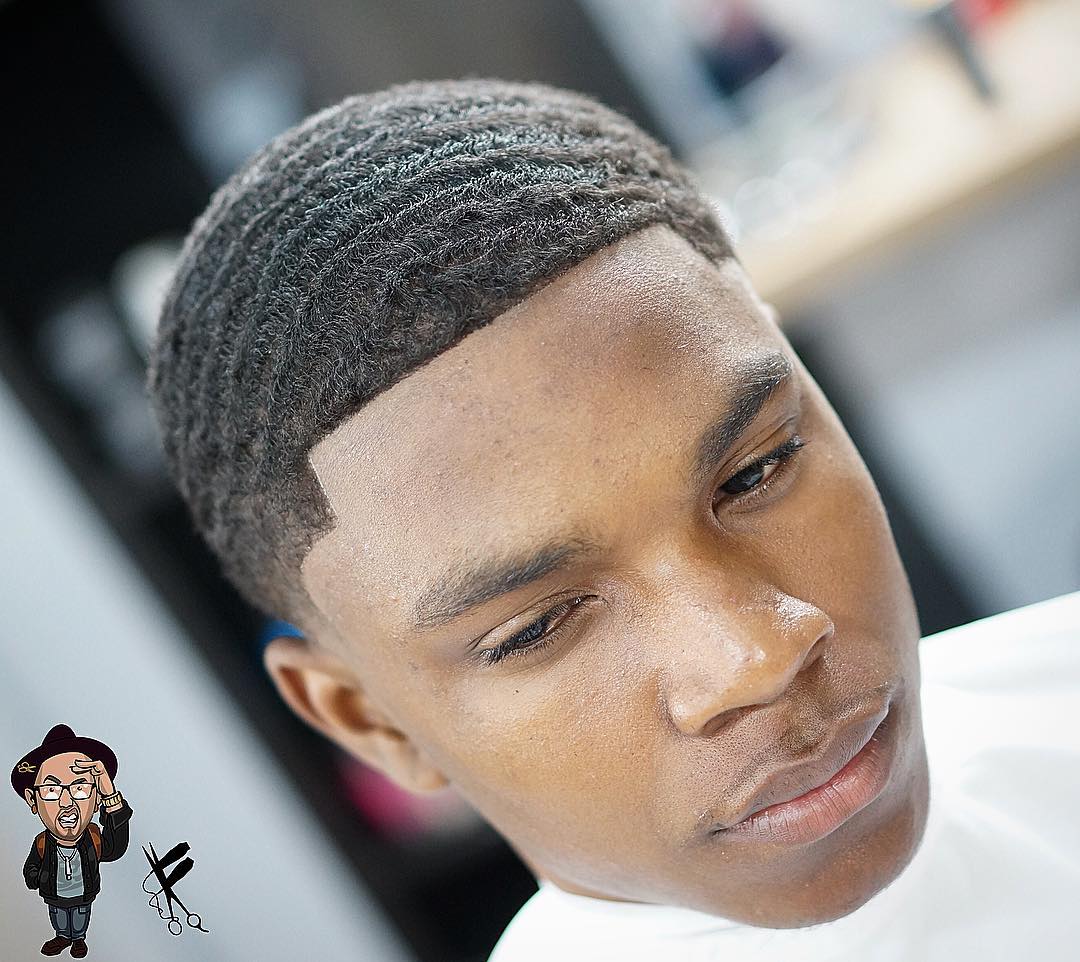 Spinner waves look excellent at any length. Take care of those waves with conditioner and regular combing with a wave brush.
6. Short Hair + Burst Fade
This fresh cut has just enough length to look retro. Keep it tight with short sides and a burst fade.
7. Edge Up + High – Low Fade
This short cut has just enough length to see some kinky curly texture. The edge up arcs directly into the beard but is interrupted by a low skin fade.
8. Short Sponge Twists + Beard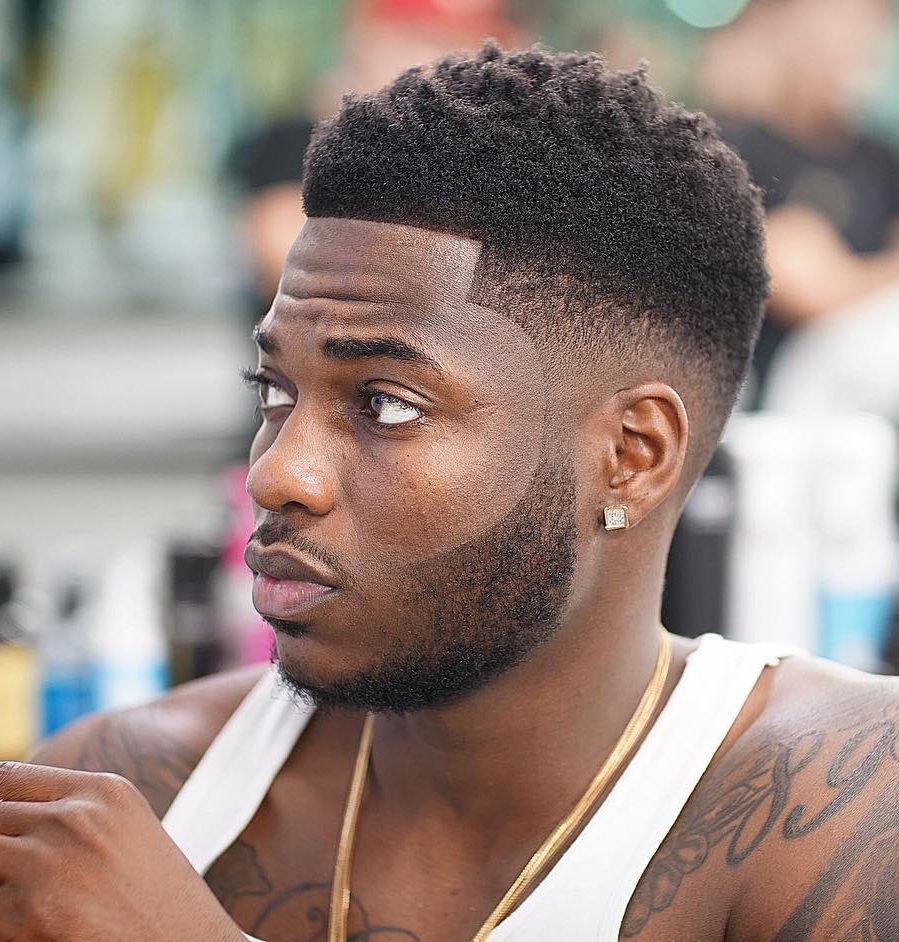 This is the same cut as the last one but with more length and a touch of sponge twists at the top. Another haircut that has been one of the most popular haircuts for black men the past couple years.
9. Fade + Surgical Line
This fresh style is all about geometry and gets extra detail from a surgical line that runs parallel to the tape up.
10. Hi-Lo Fade + Solid Line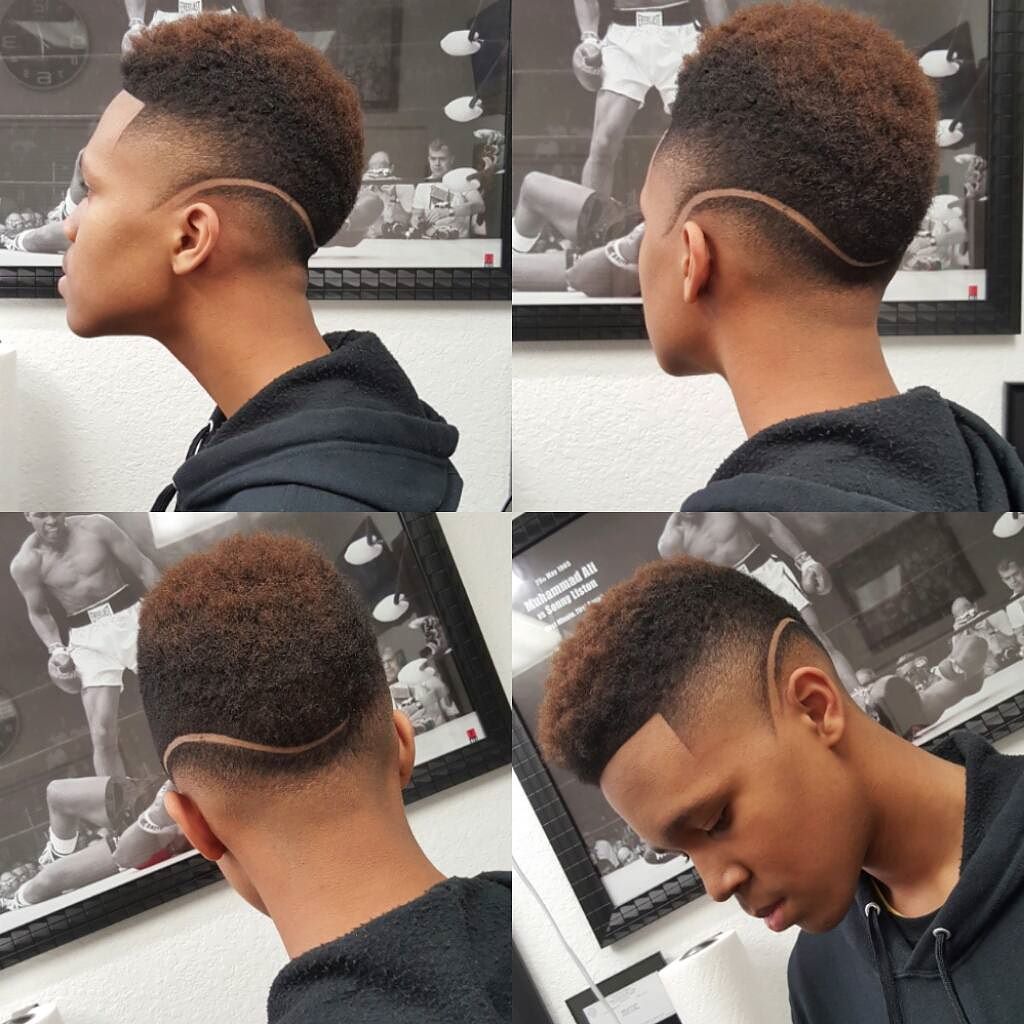 Another cool style with even more length on top plus color. The sides feature a hi-low skin fade emphasized by a waving line.
11. Frohawk + Color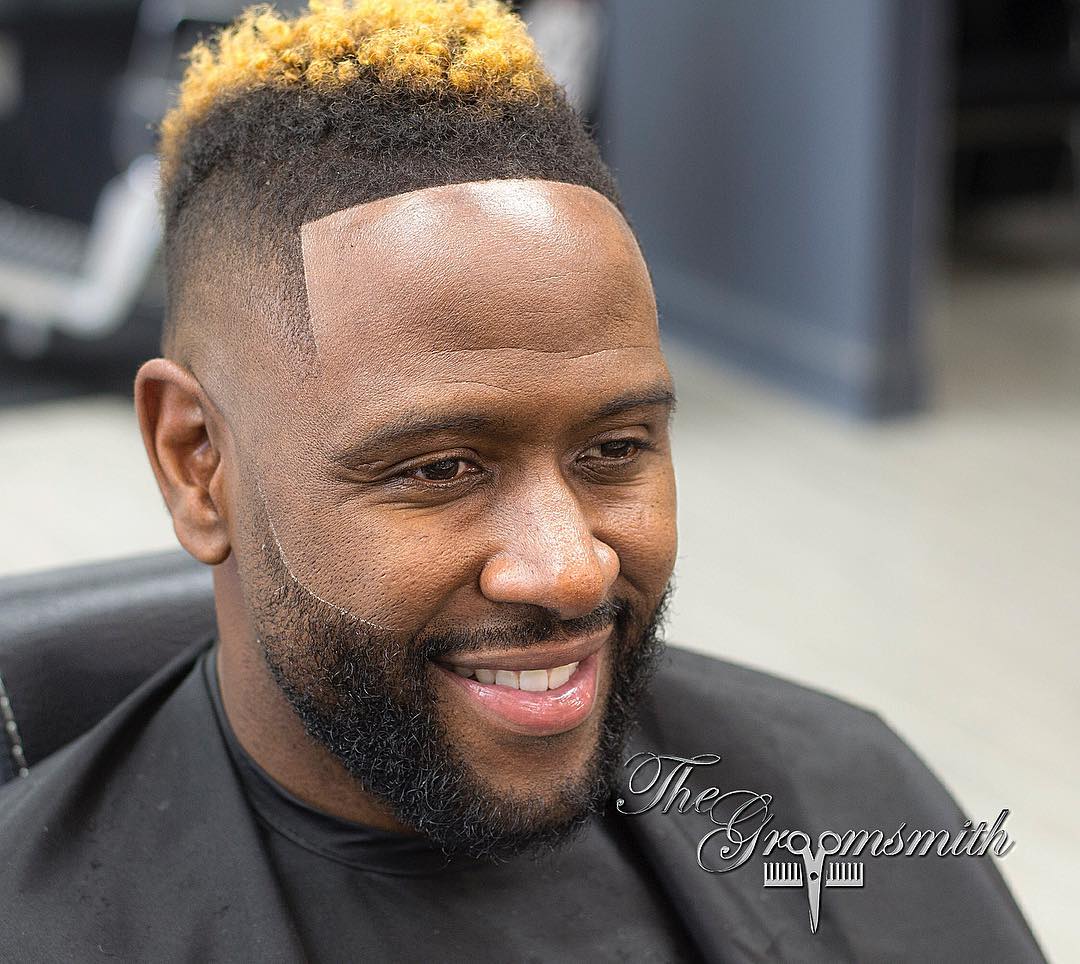 Keion Carpenter, formerly a defensive back with the Atlanta Falcons, rocks a cool cut and bold color. It's a short frohawk accented with golden tips.
12. Curls + Temple Fade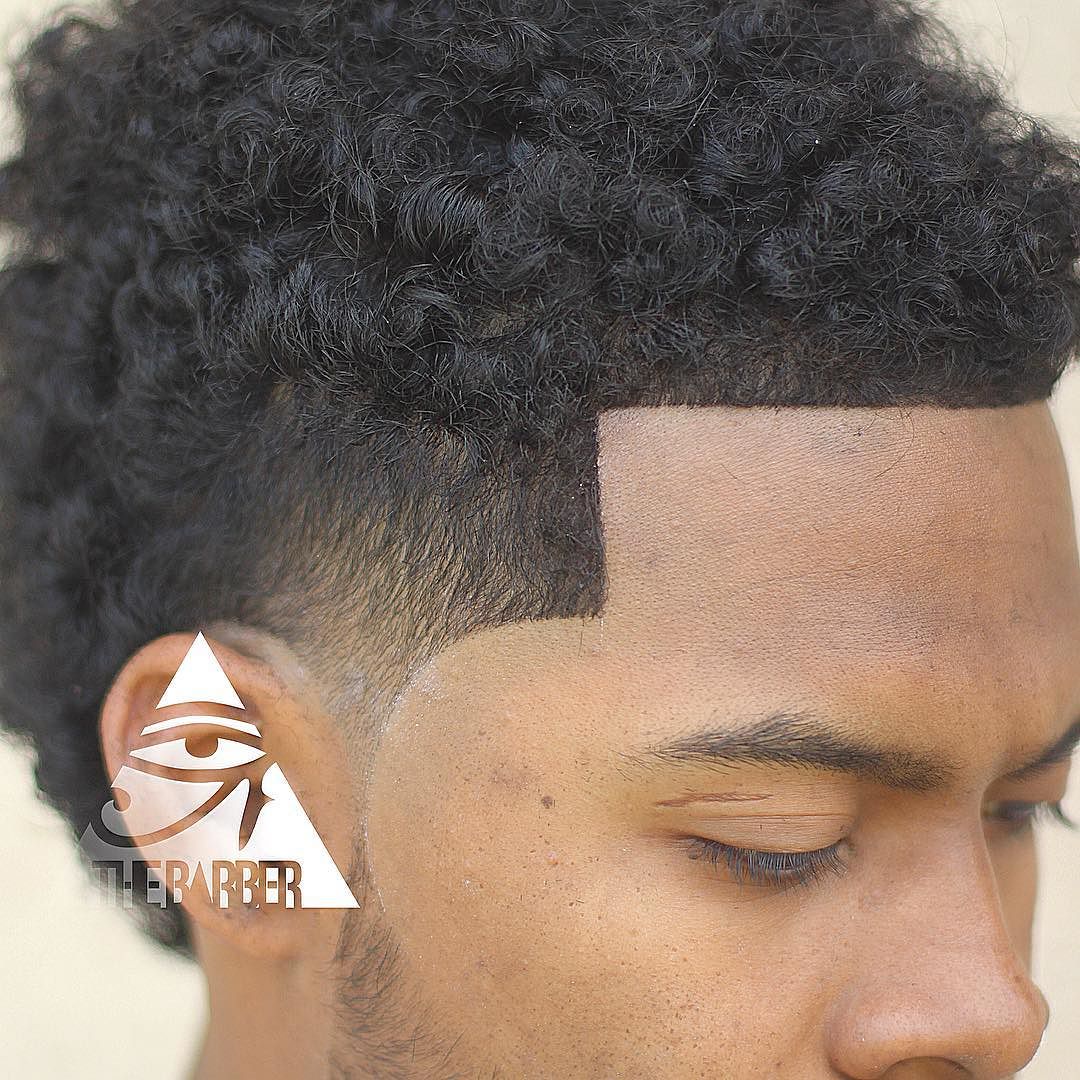 This cool cut is a modern update on the retro fro. It's shorter but still has that signature rounded profile. The edges are cool and clean with an edge up and temple fade.
13. Taper + Solid Line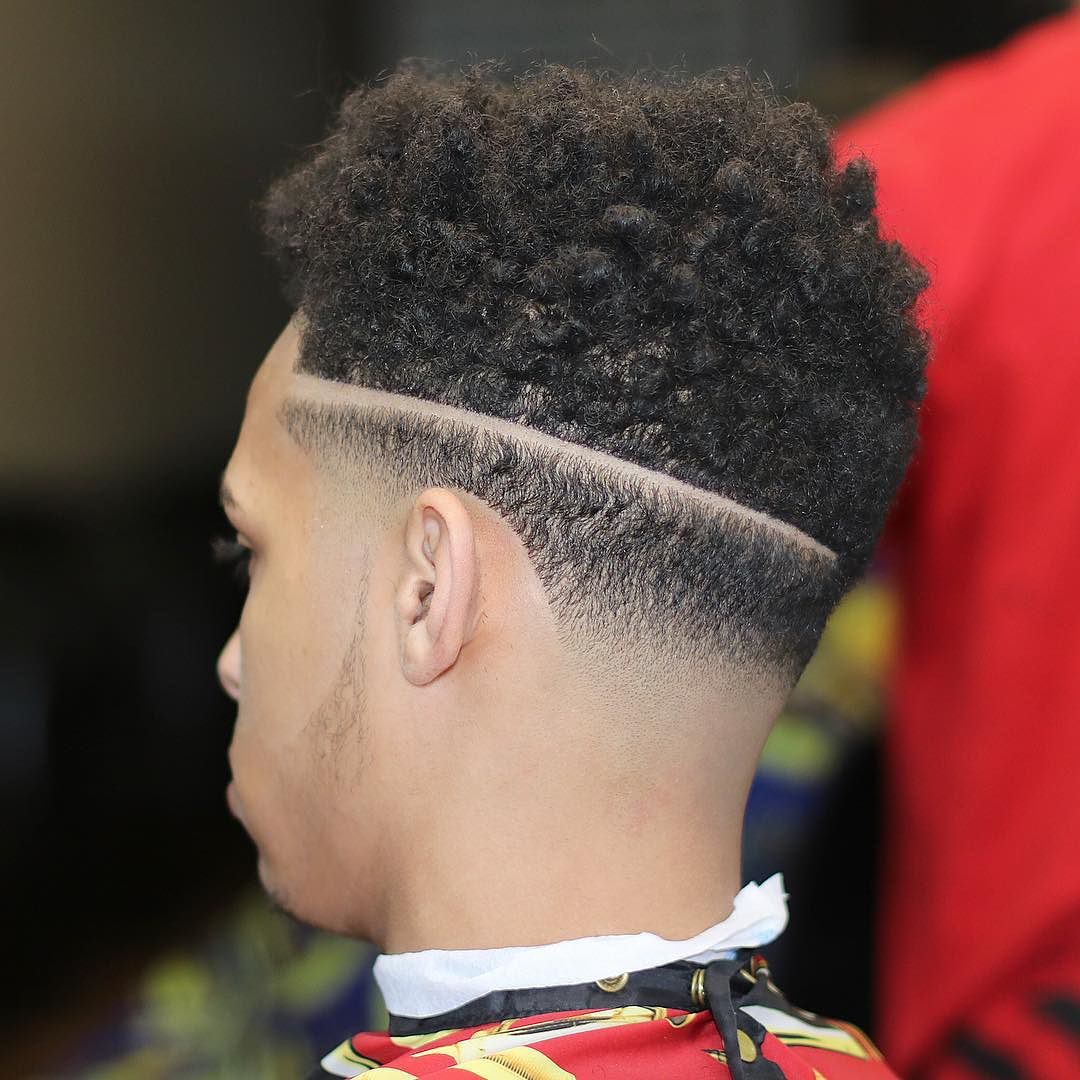 This dope cut combines loose curls on top with a cool fade around the sides and back. Hair tapers from thick down to the skin and is accented by a thick diagonal slash.
14. Twist Curls + Surgical Part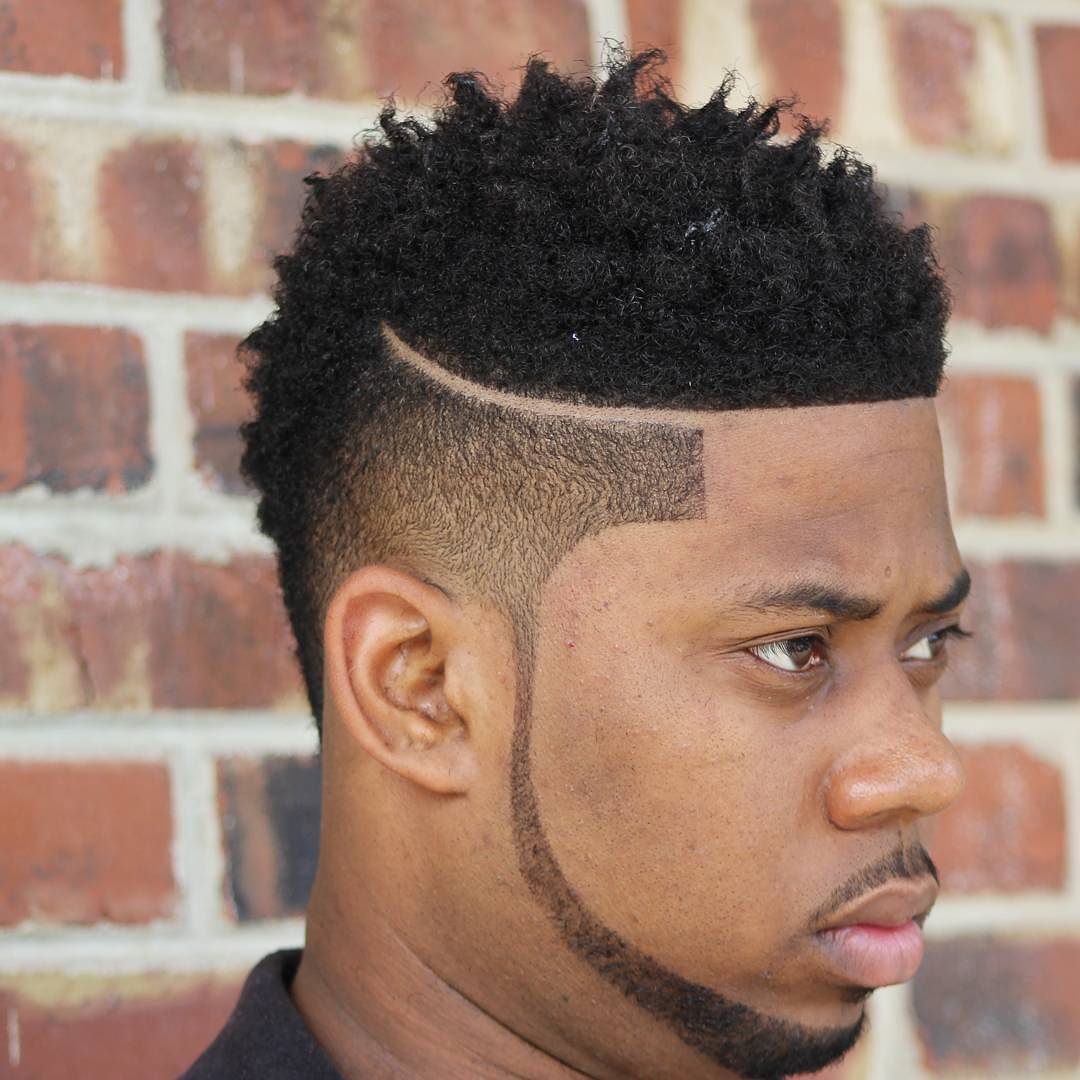 This cool cut for black hair extends the hairline into an arced part that also divides long hair from short.
15. Curls + Temple Fade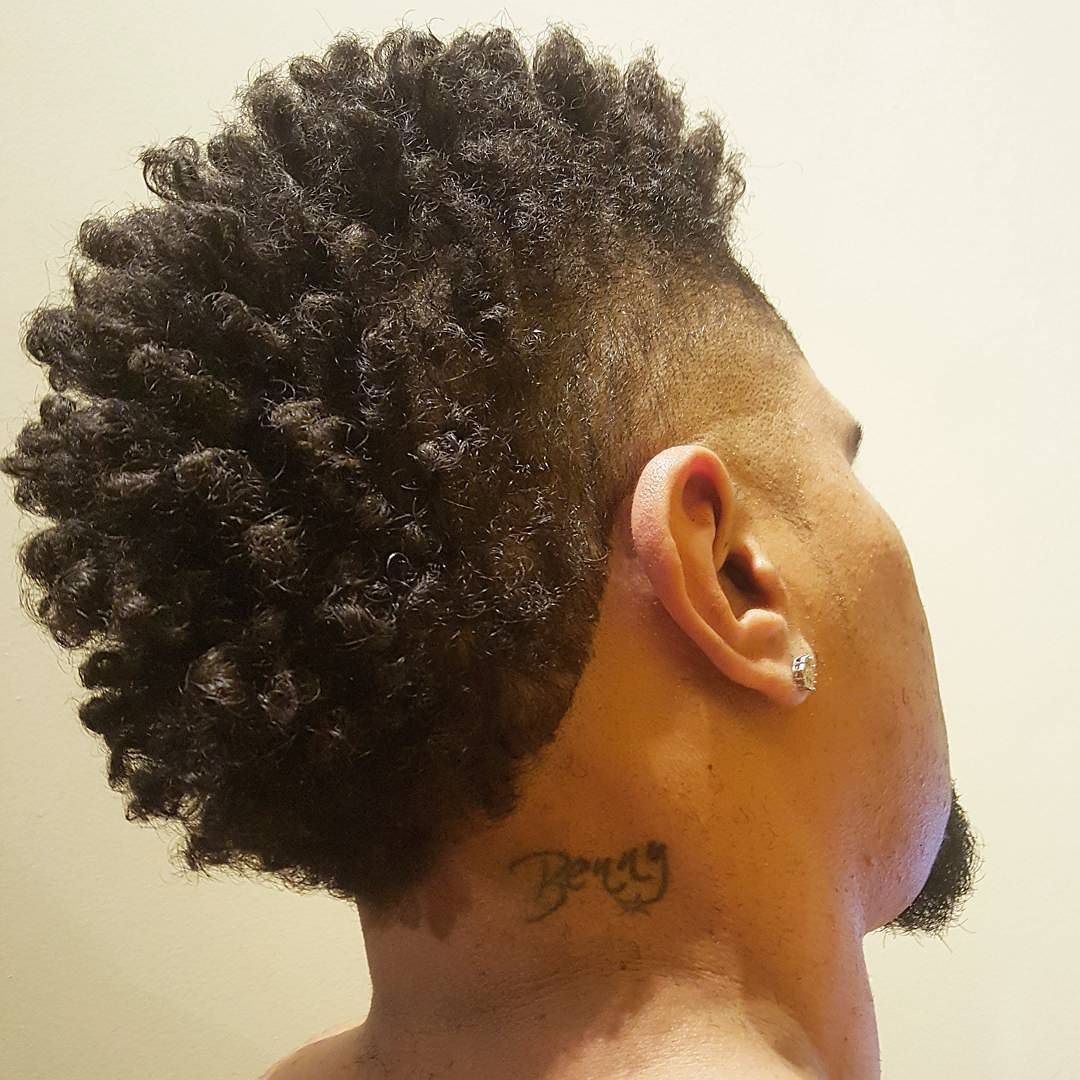 A temple fade and rounded neckline clean up the edges of this medium length curly cut.
16. High-Low Fade + Detail
We've seen other versions of this but every cut is a little bit different. Hair is rounded on top while a high-low skin fade plus surgical line keeps the sides short.
17. Curved Flat Top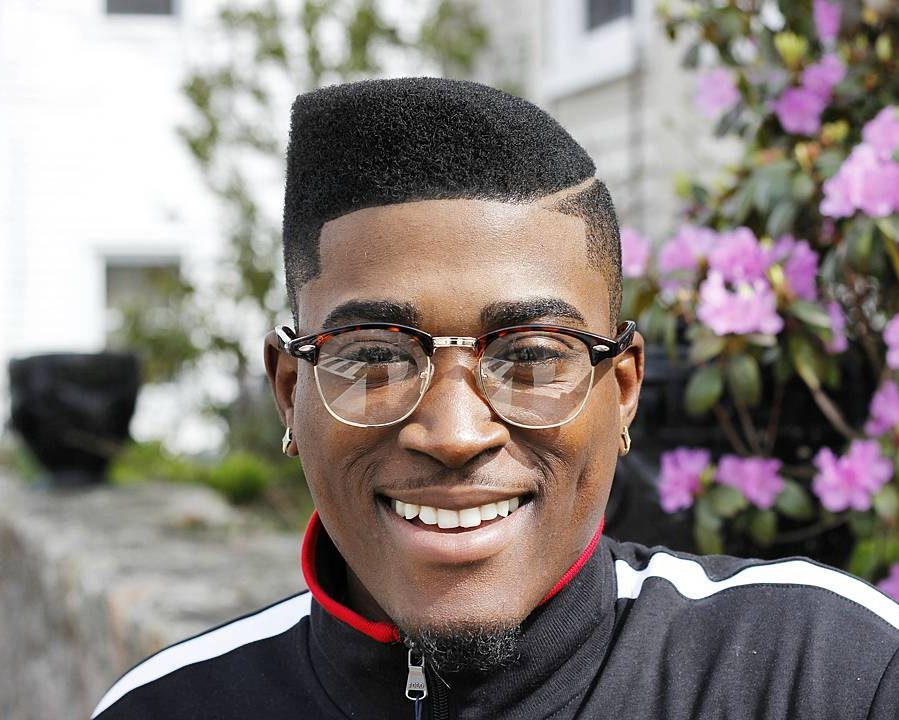 Retro hairstyles for black men are back in a big way. Flat tops for 2016 also feature curves, angles and lines.
18. Flat Top + Stair Step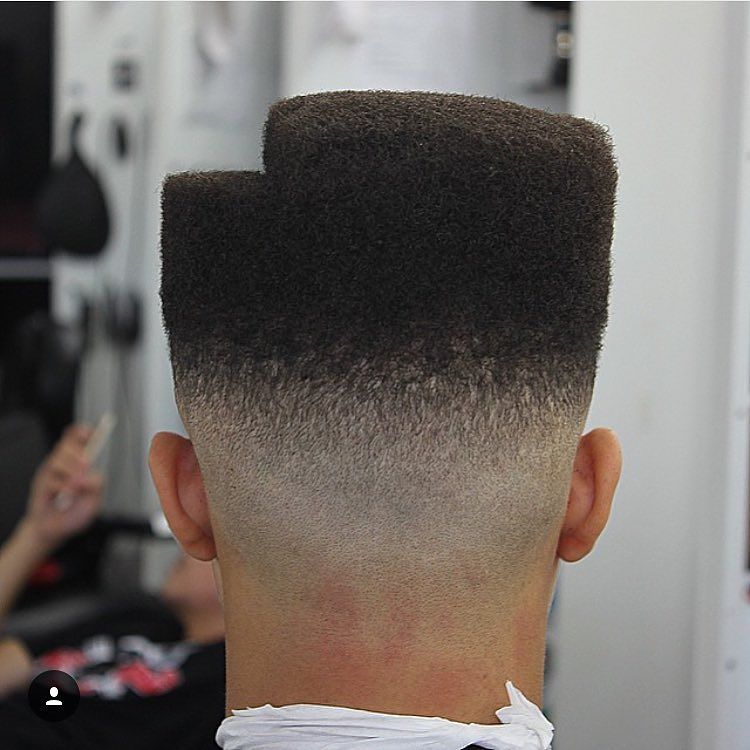 This cool look will get you tons of compliments.
19. Tall Flat Top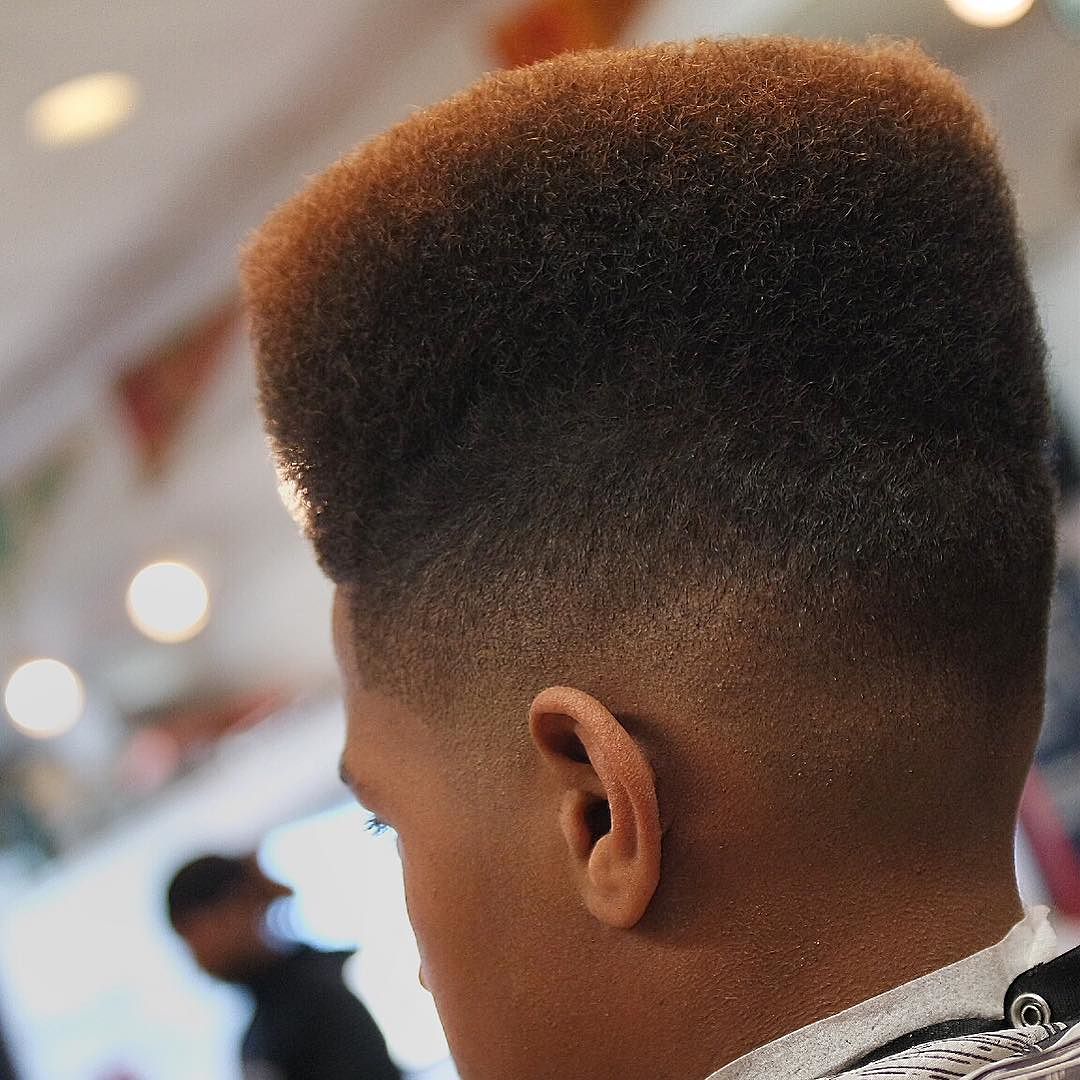 Plenty of height in a flat top is also something to aspire to. This cut features rounded edges instead of the usual squared off sides.
20. Flat Top + Reverse Fade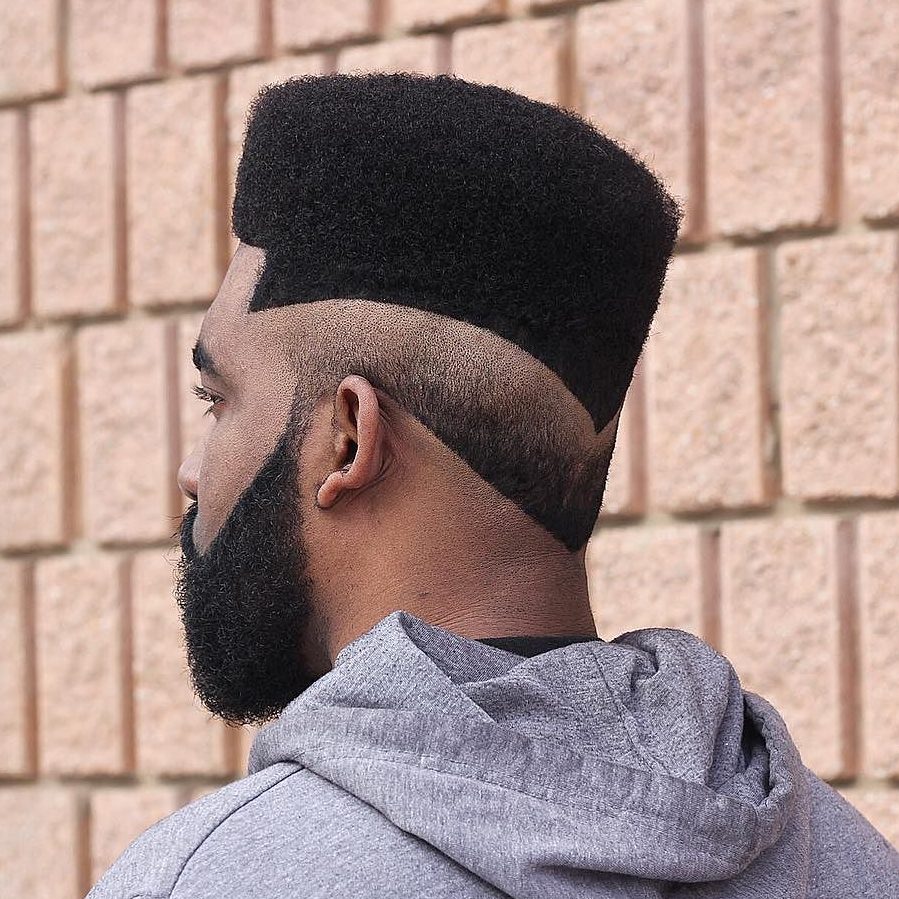 As if the top wasn't cool enough, this cut features a double-V design at the back.
21. Long Curls + Surgical Line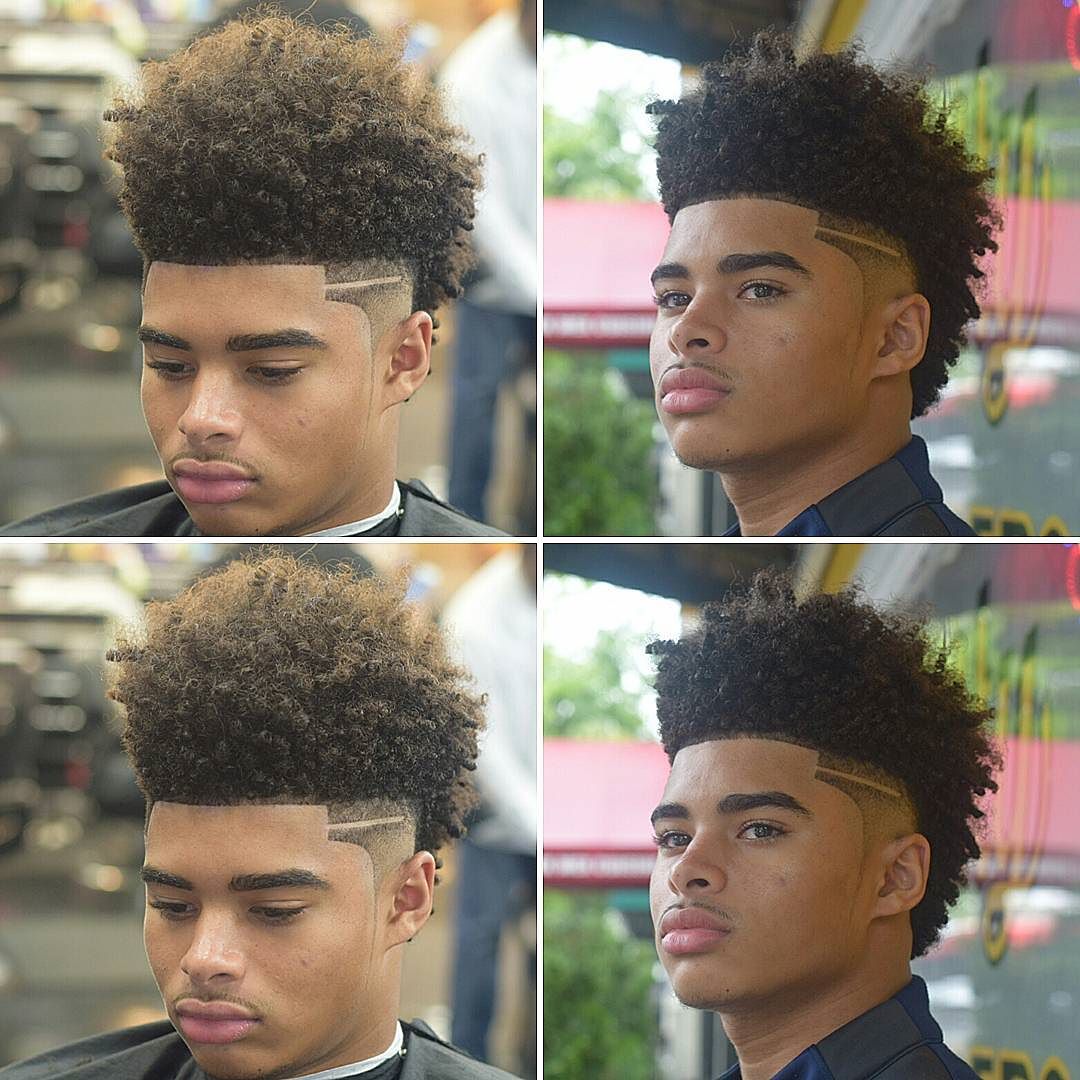 This dope cut is actually a prom hairstyle for black hair. He's looking sharp with long curls on top and down the back and shaved sides with a line accent. One of the coolest haircuts for black men we have seen this year. Very unique.
22. Long Twists + Fade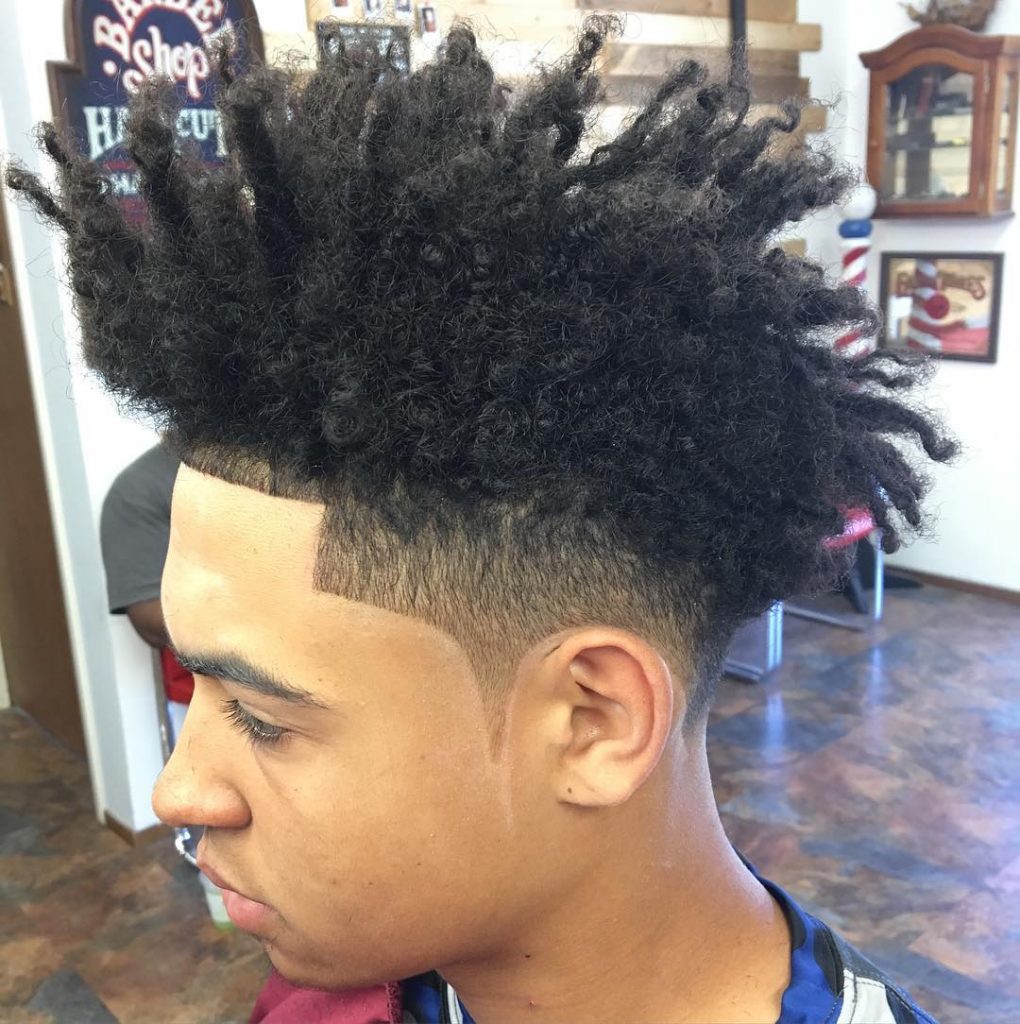 Some of the best men's haircuts combine contrasts, like this cool taper fade with long twists.
23. Stepped High Top Fade + Merman Hair Color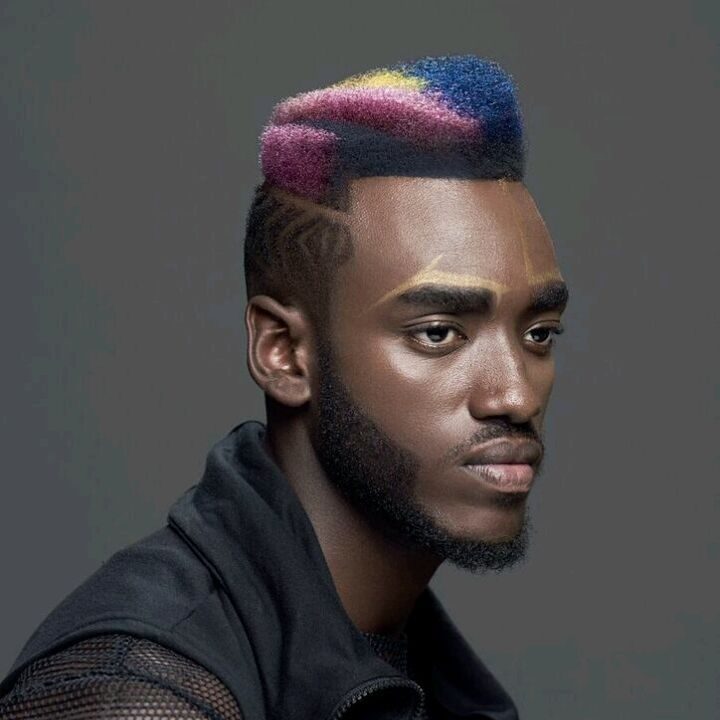 Every aspect of this high top fade and beard has something interesting going on. The flat top features steps and shapes that are highlighted by multiple hair colors. The fade at the sides includes geometric patterns that complement the shaped beard.
24. Hair + Beard Design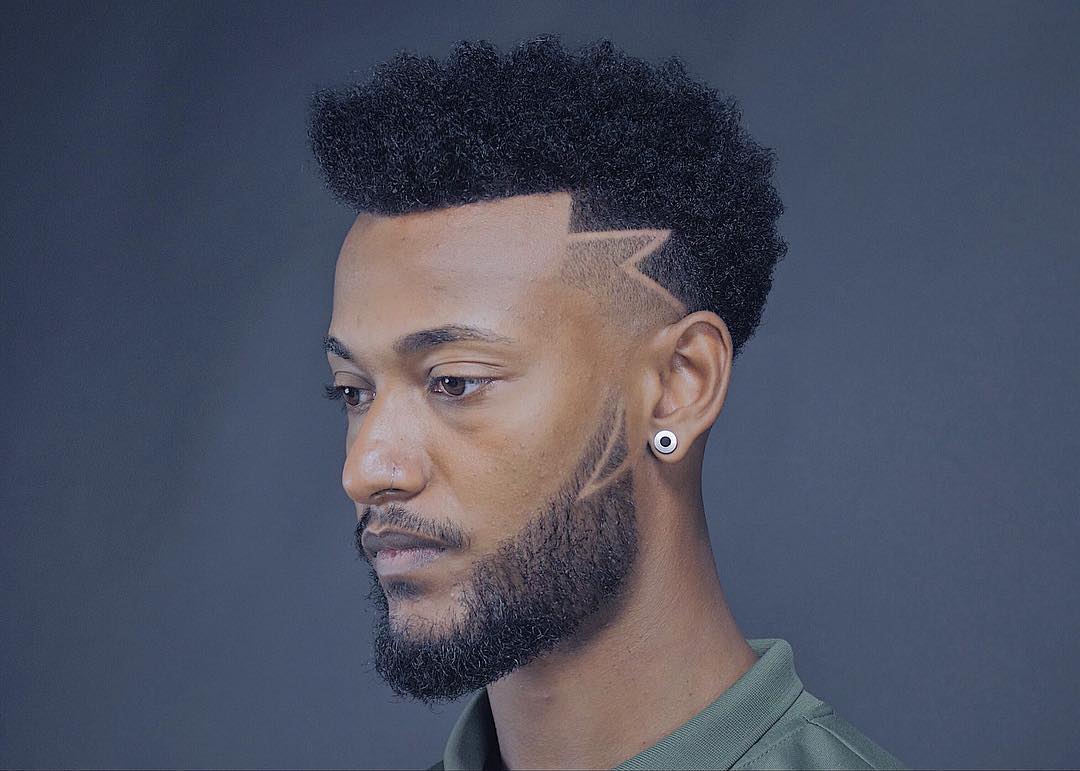 A cool trend this year is bringing a hair design into the beard. The jagged lines contrast a curly hair and a rounded beard shape.
25. Short Dreadlocks + Temple Fade + Black Beard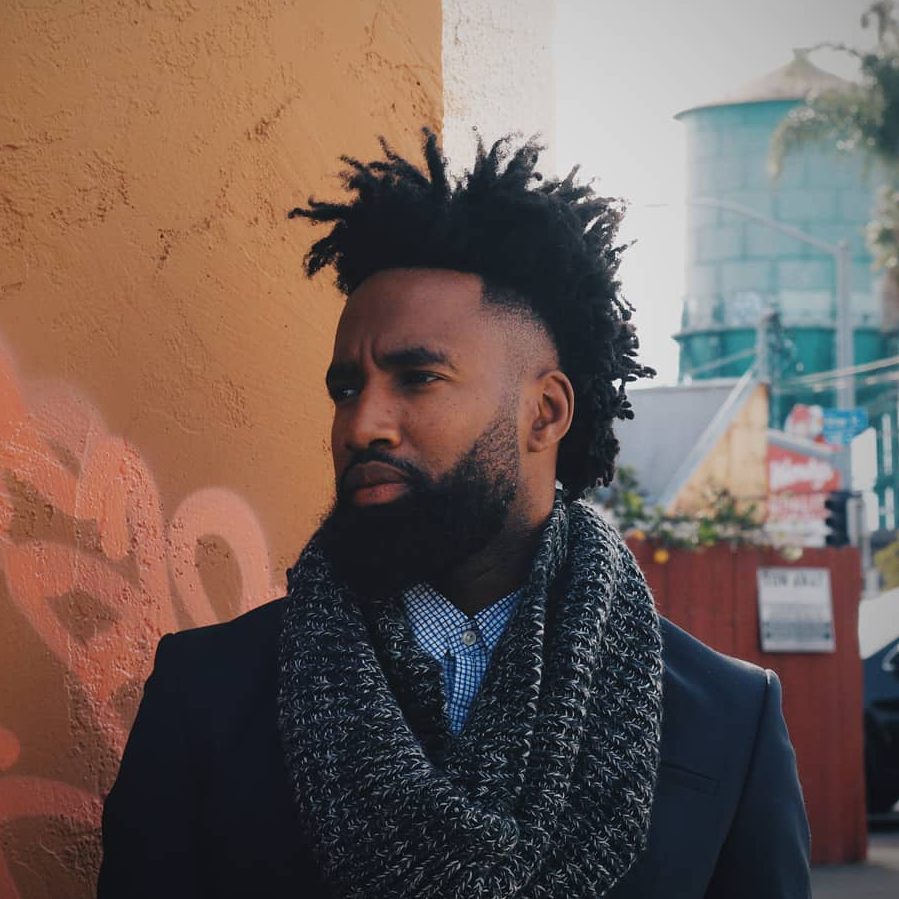 This dapper lock proves that gentlemanly style is all about the attitude. A temple fade creates a mohawk profile out of short locs. The cool hair looks great with a stylish shirt, suit and scarf.
26. Curly Mohawk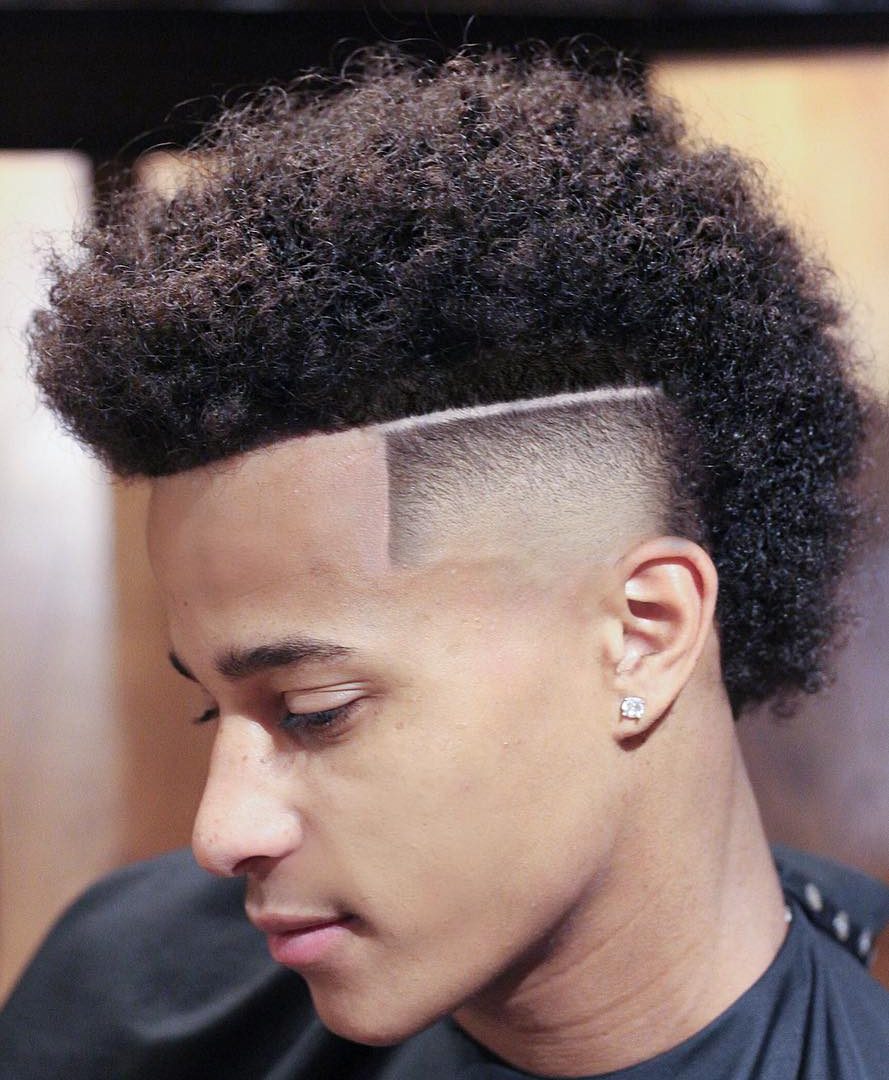 Here's another temple fade mohawk but with curly hair instead of locs. A shaved line extends the tape up and provides a linear contrast to the rounded profile.
27. Medium Length Curls + Low Fade + Line Up + Beard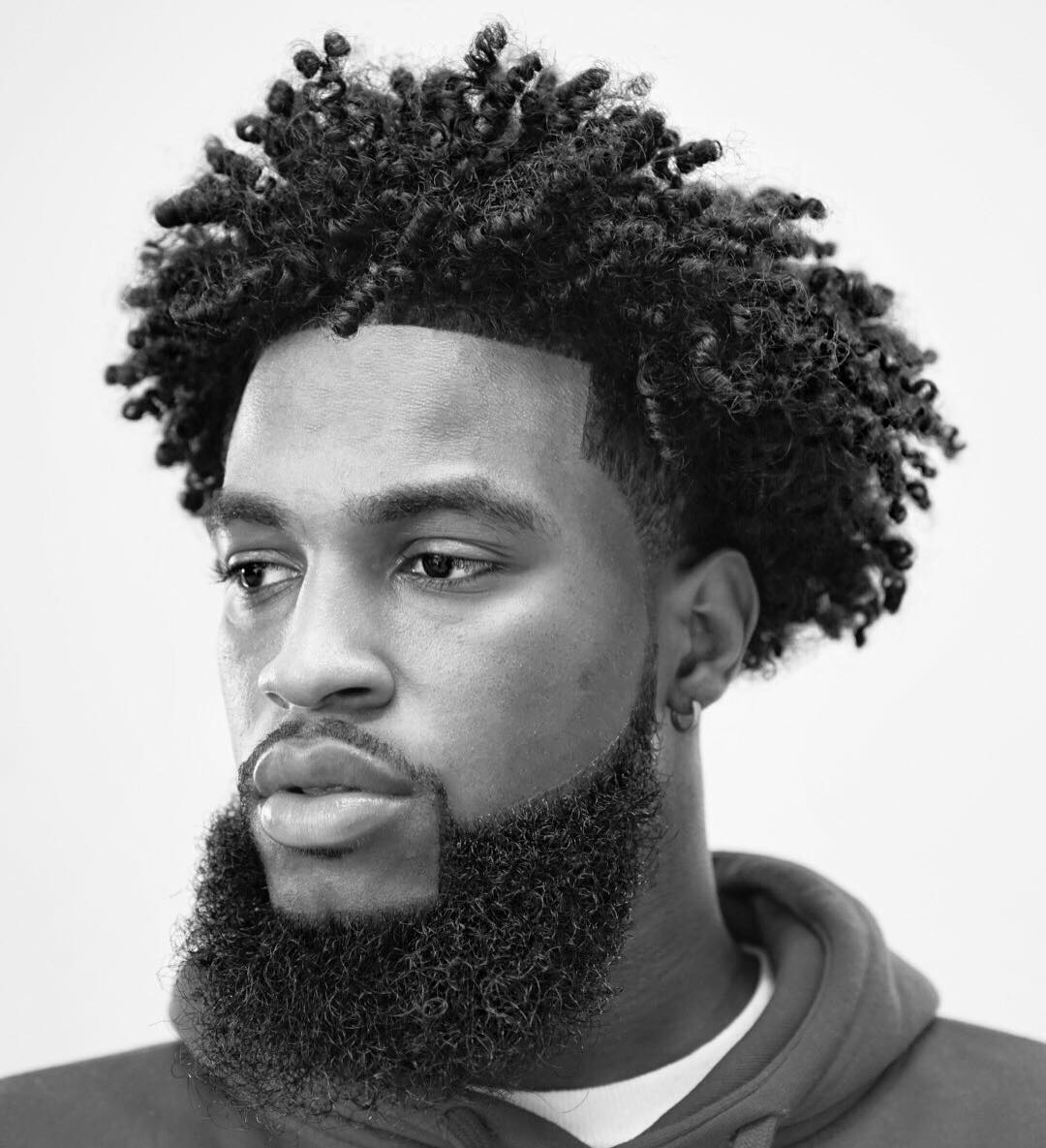 This fresh style combines shaved geometry with spiral curls. A line up and low fade cleans up the edges around medium length hair while the full black beard is shaped with a shaved square at the chin and curved line at the cheeks. This is one of our favorite black men's haircuts to get right now.
28. Mohawk + Drop Fade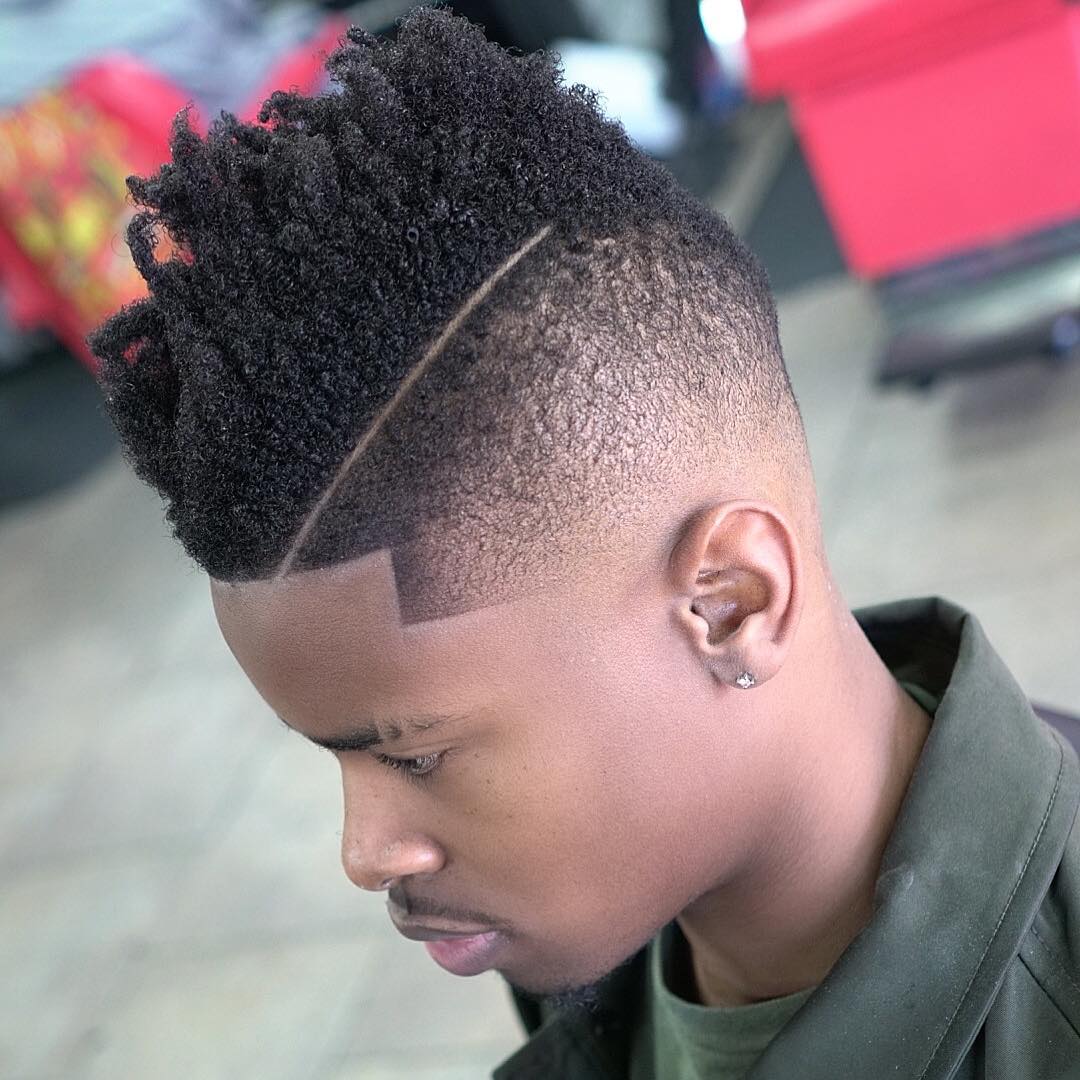 Here's a totally different combination of a curly mohawk fade with a shaved line. The mohawk is concentrated on the top of the head and comes to a peak. A shaved line adds a part on one side while a drop fade goes down to the skin around the sides and back.
29. Medium Locs + Mid Fade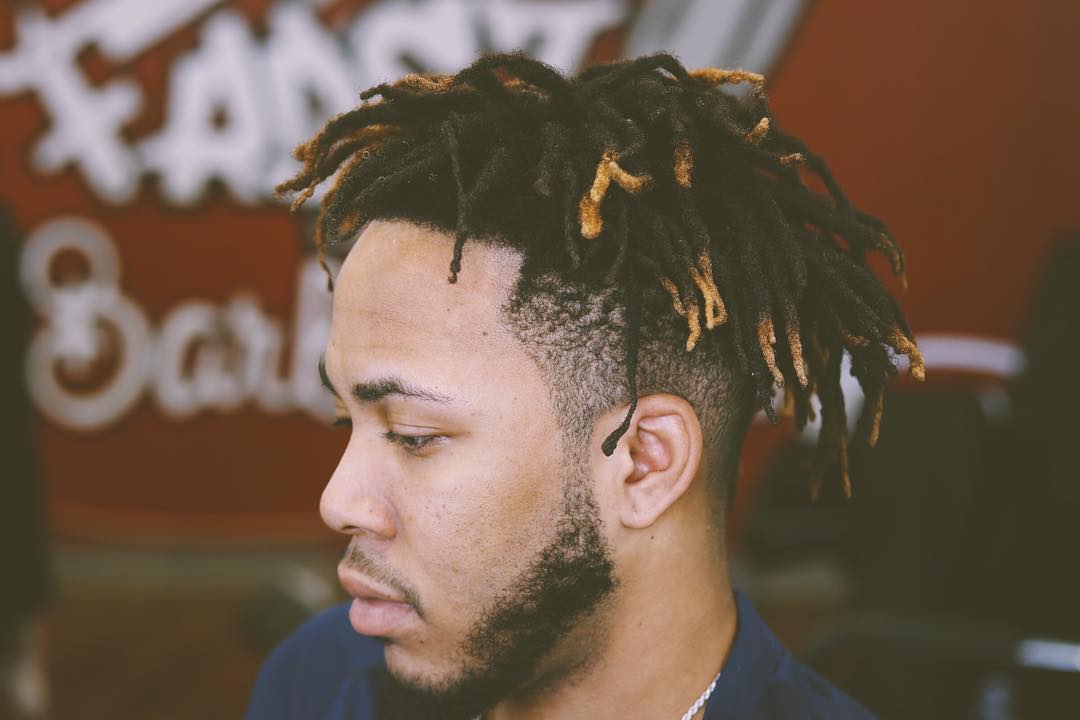 Many medium length hairstyles for men are easier to manage with a fade and these medium length dreadlocks are no exception. With a line up at the forehead and mid fade around the sides and backs, locs can be worn loose or tied back.
30. Long Locs + Shaved Nape + Hair Design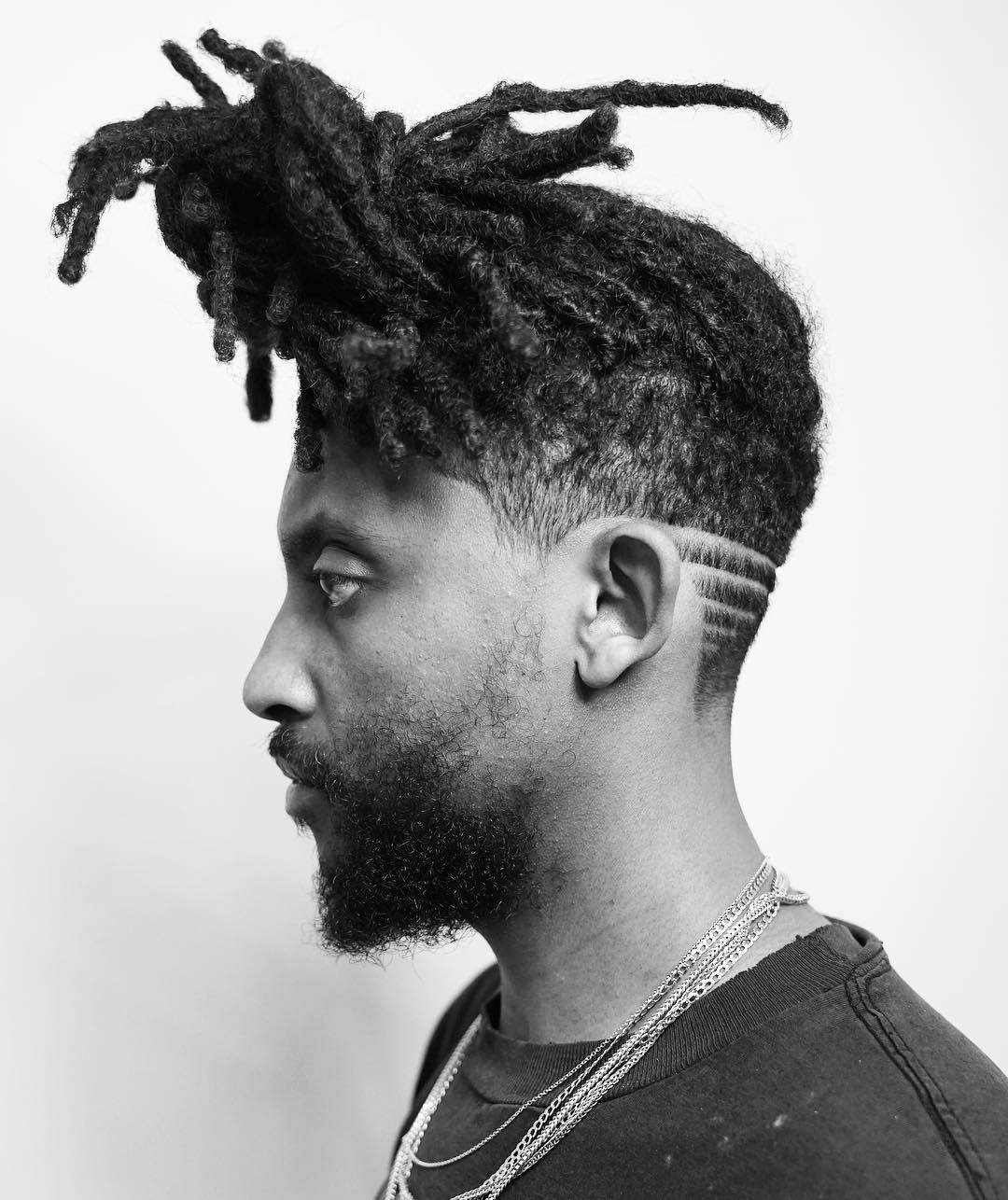 Shaving hair behind the ears makes long hair easier to manage and looks very cool when worn up, especially when it reveals a cool hair design. These long dreadlocks are pulled up into a messy man bun but that is just one way to wear hair.
31. Half Moon Part + Short Twists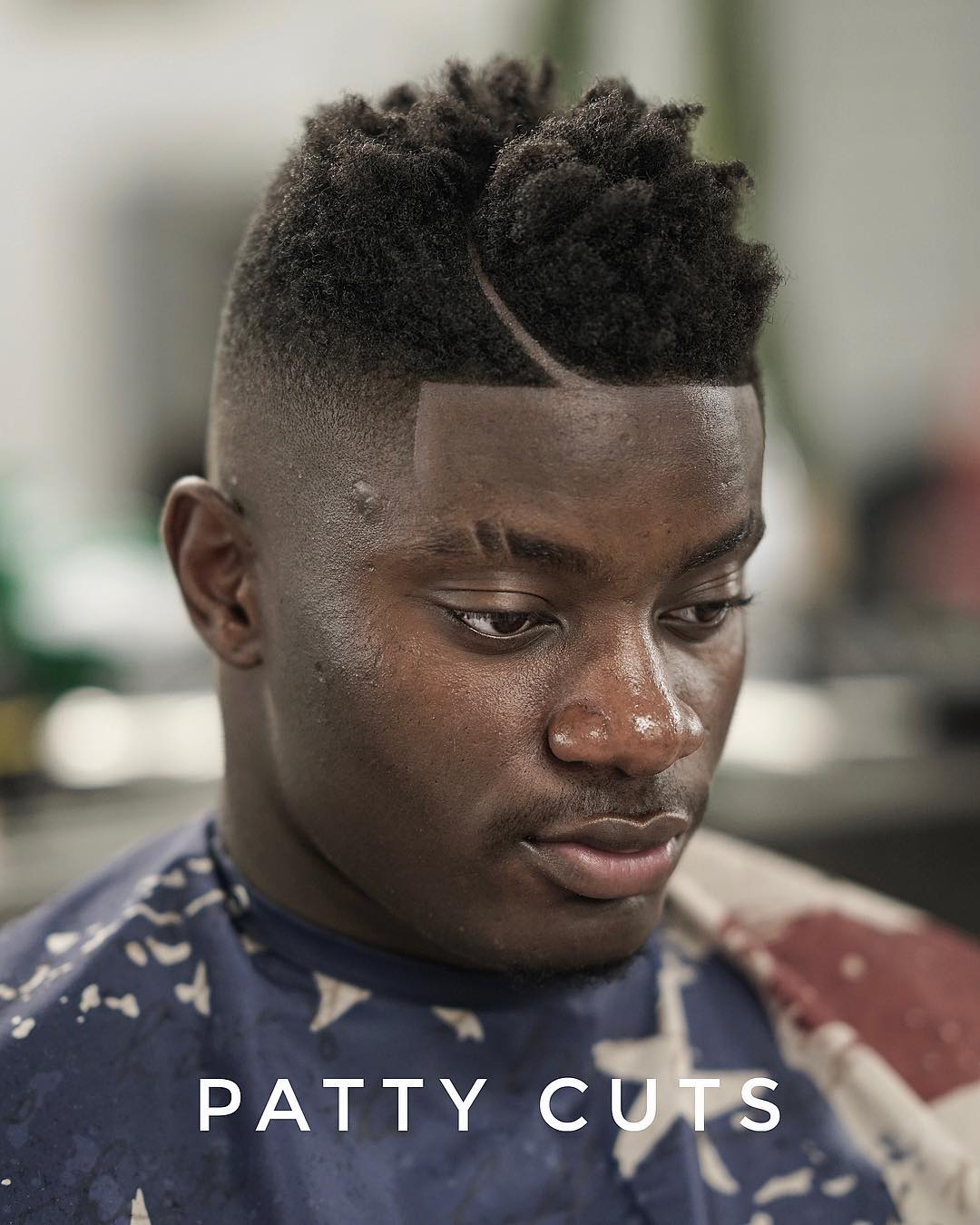 This cool high and tight haircut adds some slightly twisted texture to hair on top. A shaved half moon part divides hair into two sections while a pair of shaved lines cross each brow. Totally cool haircut for black men to try out.
32. Short Afro + Shaved Line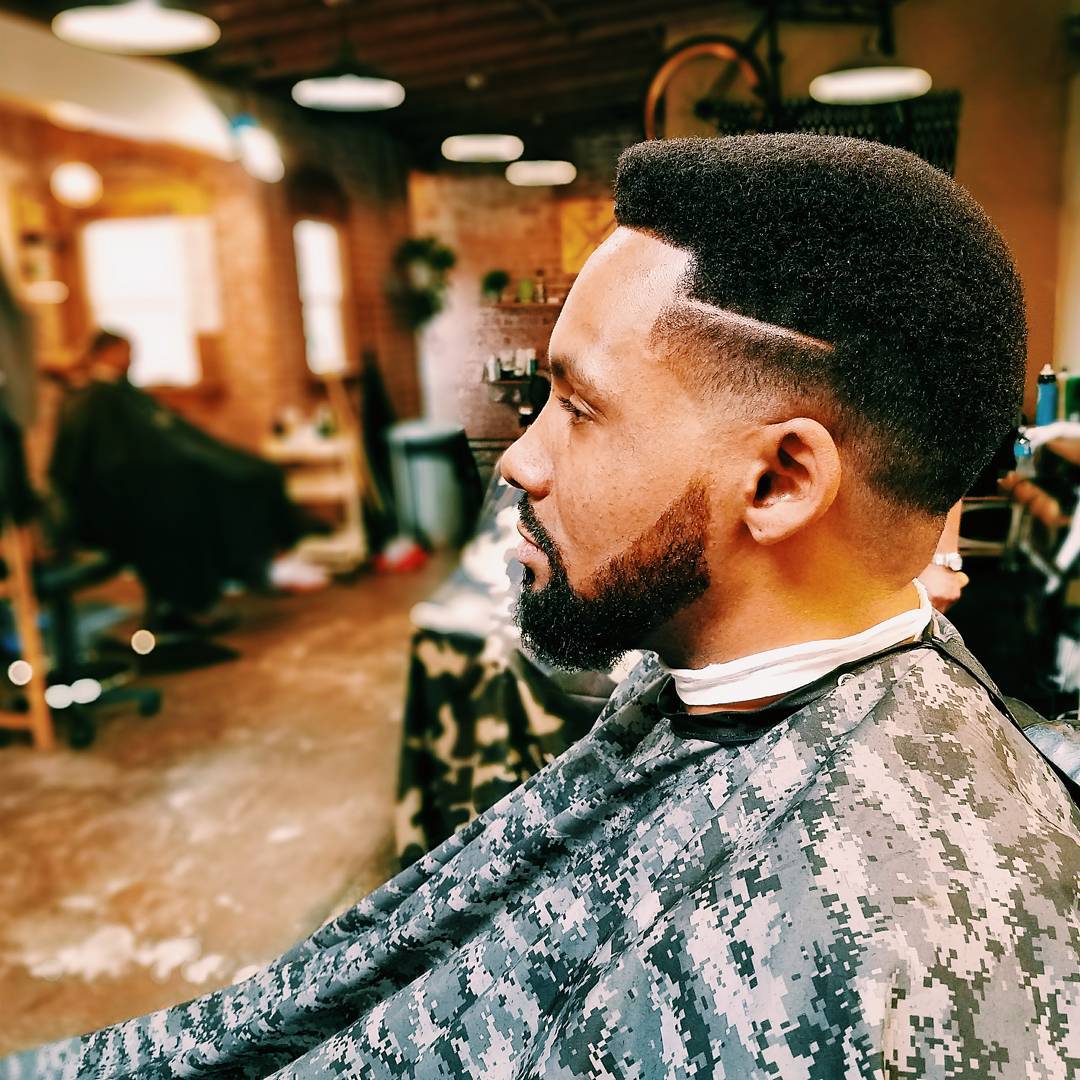 This short afro gets a modern update from a squared shape at the forehead and shaved line above a temple fade.
33. Short Afro + Temple Fade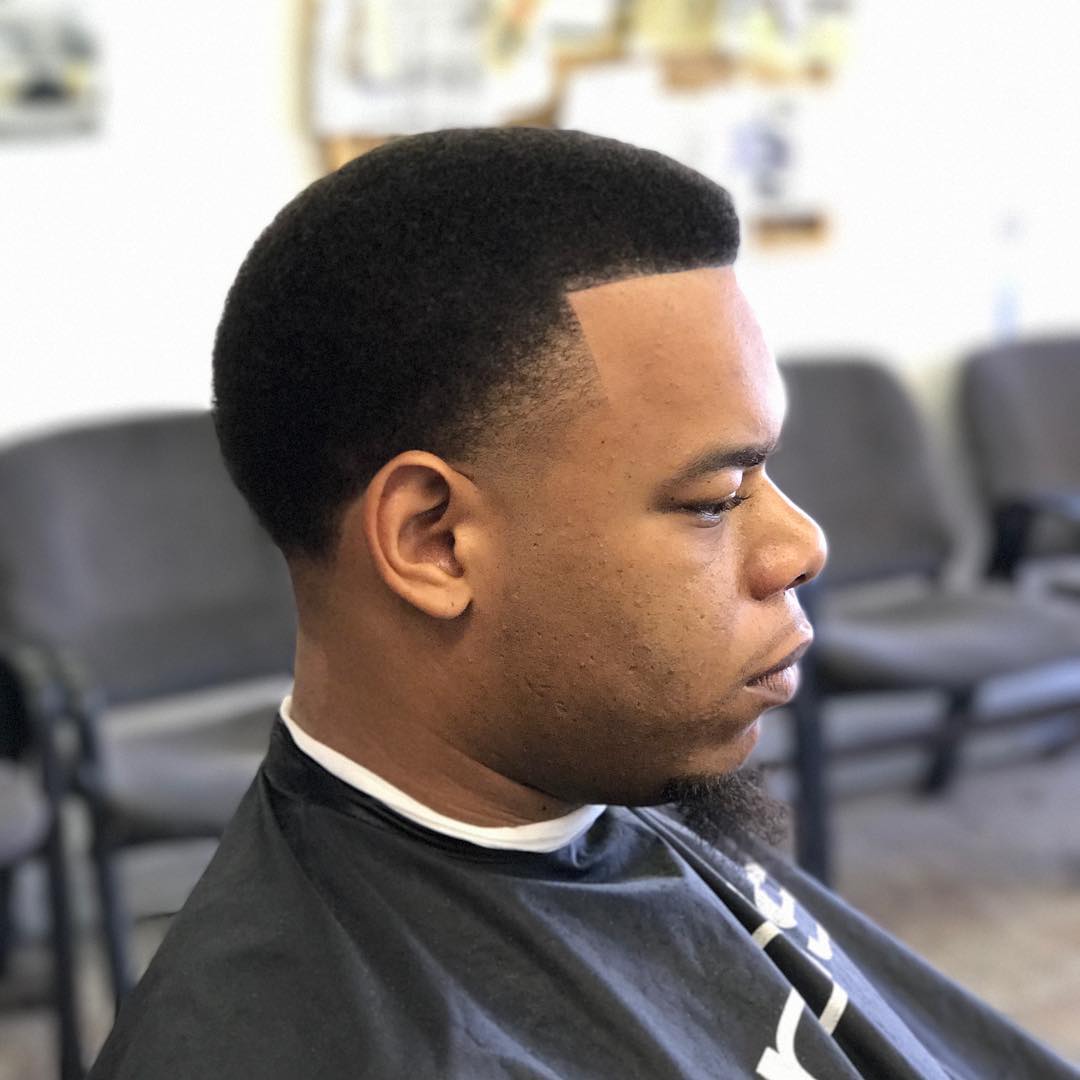 Here's another short afro with a temple fade and taper at the neckline.
34. High and Tight + Double Part
A pair of shaved parts add a cool detail to a classic high and tight. A great short haircut for black men.
35. Blowout Hair
Cool curls with a low fade create a cool blowout hair.
36. Fade Haircuts for Boys
You're never too young to be stylish. This high and tight has plenty of texture on top. Fade haircuts are a great option for boys because they look great without styling.
37. Southside Fade Haircut
The Southside fade is a variation of the high and tight that takes the fade all the way up to the crown of the head. It makes a bold statement with very little hair and is the ultimate low maintenance style. It is also an excellent choice for balding men because the fades extends over thinning hair at the crown.
38. Modern Afro Haircut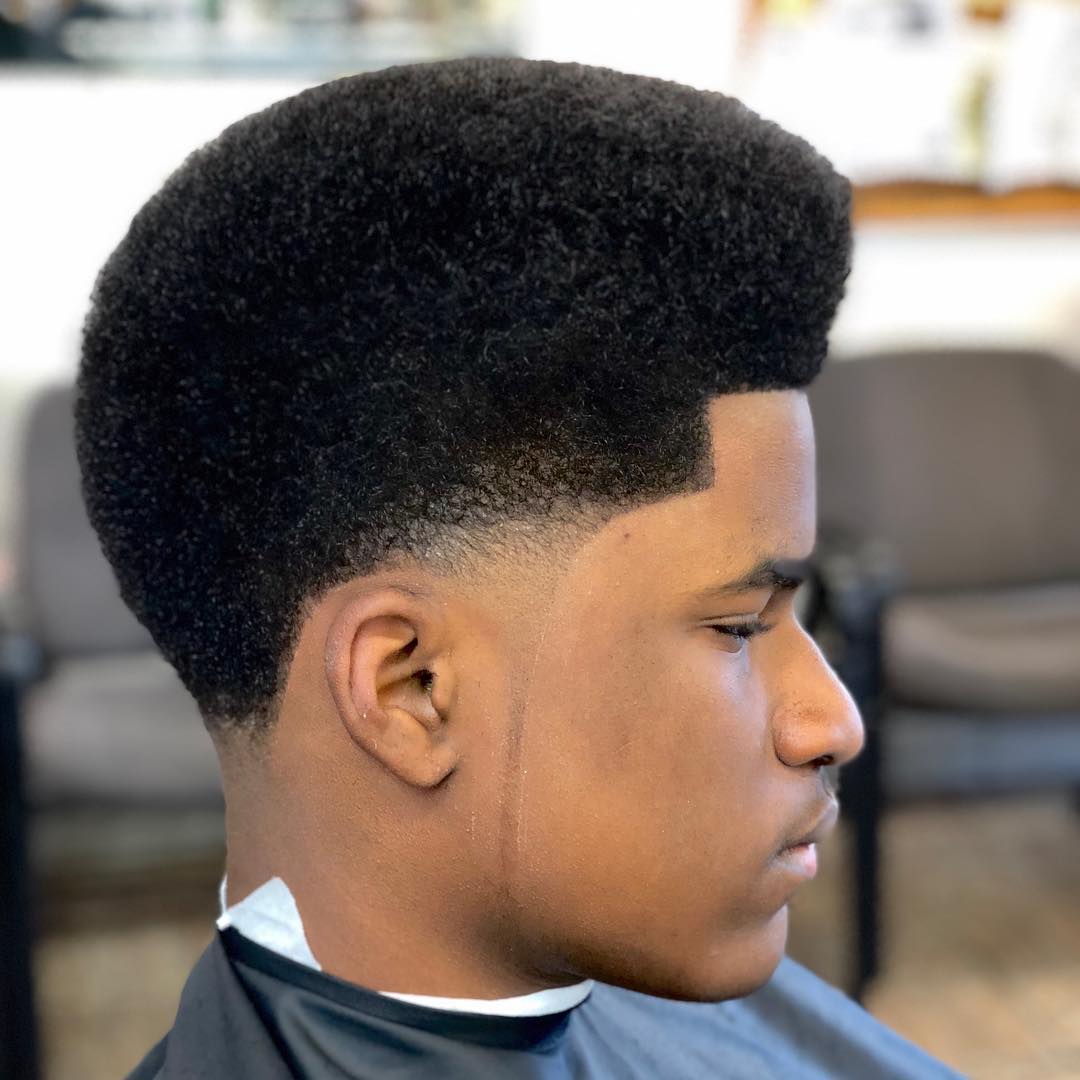 This longer afro haircut gets a modern finish from shorter sides and a vertical front instead of that classic rounded shape.
39. High Top Fade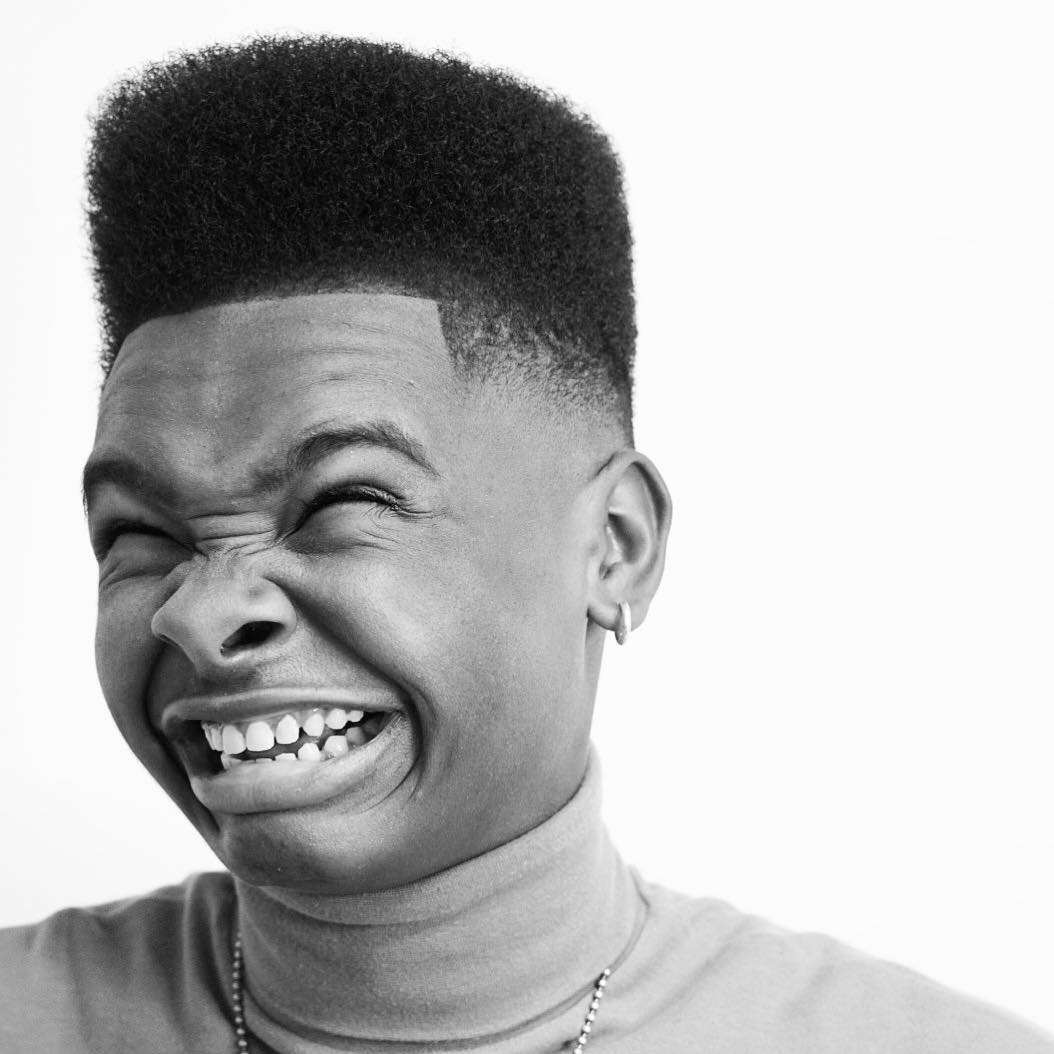 The high top fade is one of those cool hairstyles for black men that never goes out of style. Wear it in all it's 90s glory with a turtleneck or style it modern.
40. Twisted Hi-Top Fade + Infinity Part
This updated version of the hi-top fade adds lots of texture and a cool side part that meets the mid drop fade.
41. V-Shaped Neckline
This V-cut neckline is a cool way to finish a mohawk or many other short haircuts.
42. Pompadour + Temple Fade
This fresh looks cuts kinky curly hair into a rounded pompadour shape instead of the more common flat top. A temple fade at the sides contributes to that classic pomp shape.
43. Curly High Top Fade
This cool medium length haircut for black hair wears that classic high top with curly texture.
44. Buzz Cut + Line Up + Hair Design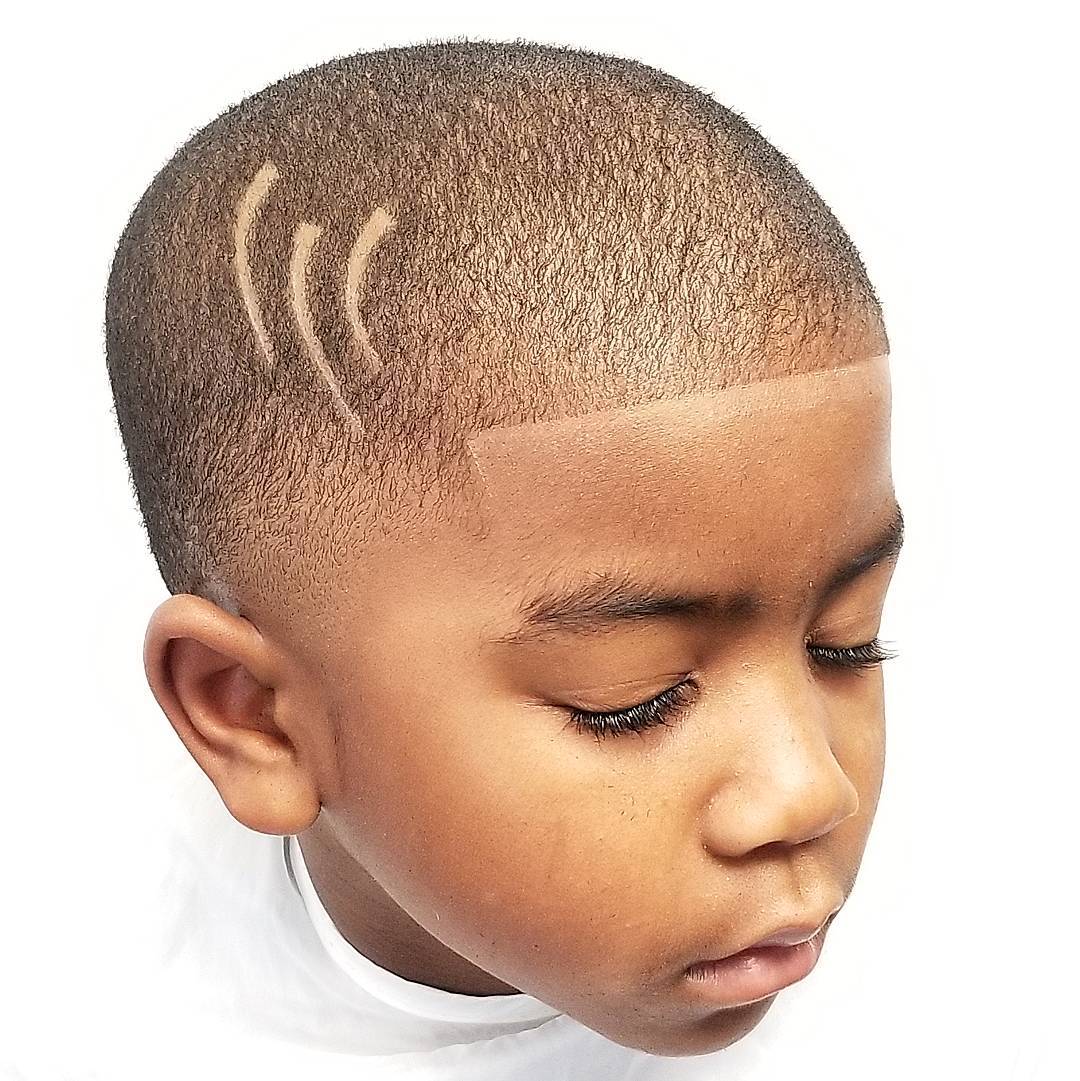 This buzz cut shaped with a line up and three shaved arcs is a high style, no maintenance cut that works for men and boys.
45. Waves Haircut With Hard Part
The waves haircut is all about texture. A combination of growing hair out and brushing hair creates a spiral of waves that get more defined over time. Waves can coil around the head in 360 waves or add a fade. A super cool black men's haircut for short hair.
46. Blue Hair + Pompadour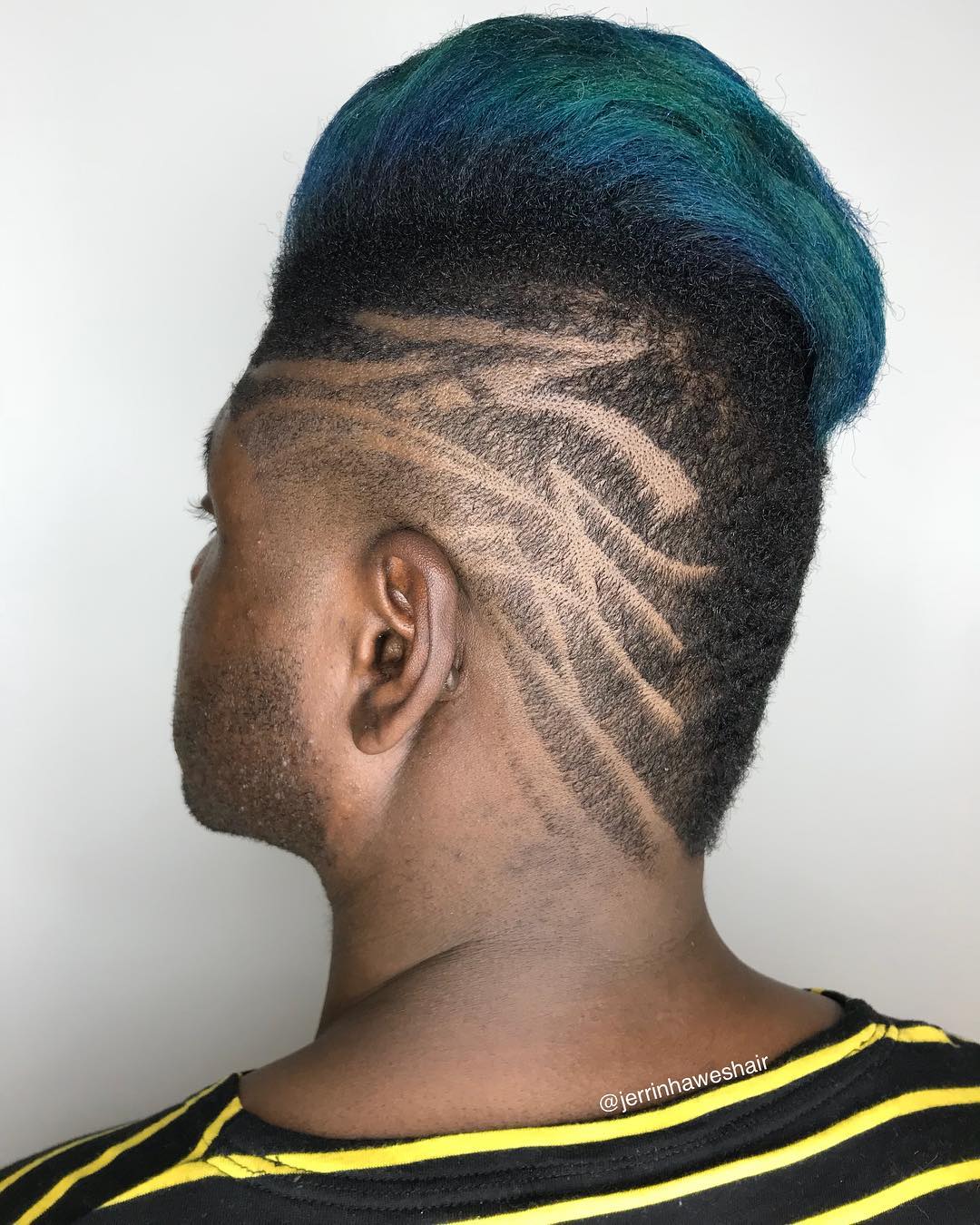 Plenty of guys straighten hair to create a pompadour. This gentleman takes the look to the next level with blue hair color, an undercut and elaborate hair tattoo.
47. Shaved Head + Long Beard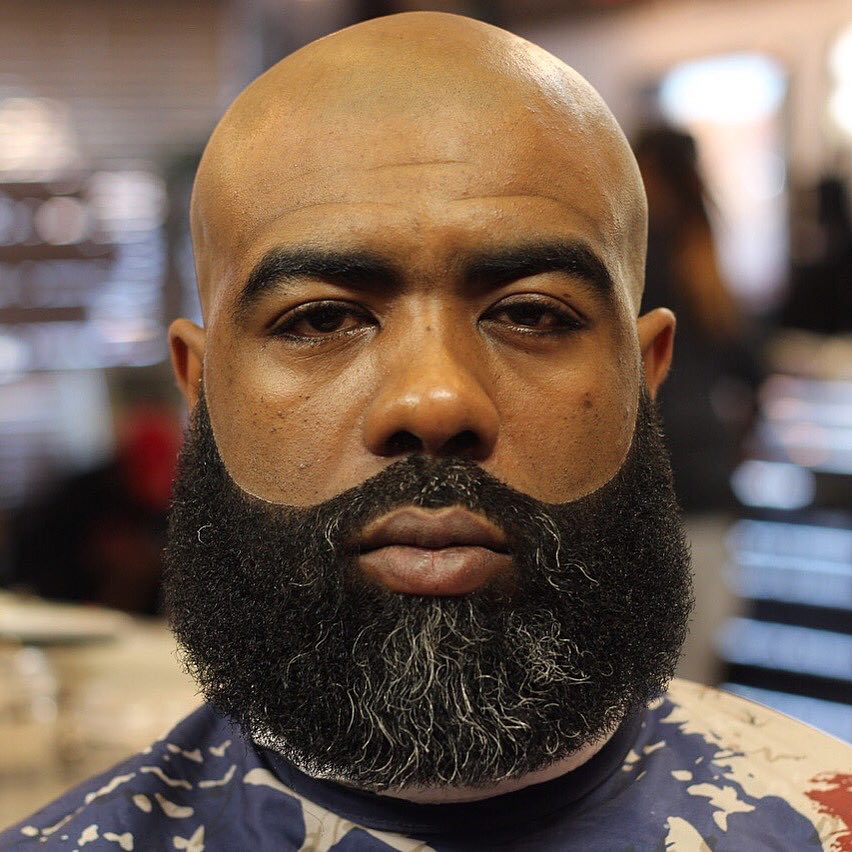 This look is all about the beard. A shaved head means all attention is on the full and wide black beard shaped into a perfect curve at the chin and cheeks.
There you have it some really cool haircuts for black men from short hair, to medium length hairstyles to longer hair on top.
Source: Menhairstyletrends.com